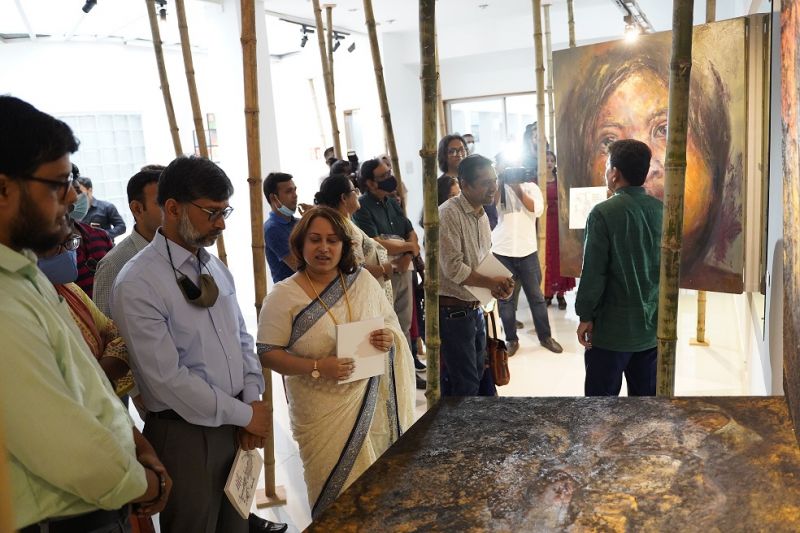 Group Art Exhibition on problems of Dhaka begins at Alliance Francaise, Dhaka

A group exhibition titled 'Urban Issues of Dhaka: An Artistic Gaze' has begun at La Galerie, Alliance Francaise, Dhaka. This is an extraordinary exhibition focusing on the urban problems of Dhaka.

The opening ceremony of the exhibition was held on Friday, 27 May, 2022.
Dr. Hossain Zillur Rahman, Chairman, BRAC and Executive Chairman of Power and Participation Research Center (PPRC) and Prof. Dr. Mahmood Hossain, Vice Chancellor of Khulna University attended the opening ceremony as special guests.
The exhibition is a unique juxtaposition of art and urban research. This is an outcome of a year-long creative engagement with ten artists and 30 school children that teases out Dhaka's unorthodox yet crucial urban problems. This exhibition aims to provoke thinking regarding sustainable Dhaka.
The exhibition is a part of an impact activity conducted by the GCRF Centre for Sustainable, Healthy and Learning Cities and Neighbourhoods (SHLC). SHLC is an international research consortium of 8 partners studying urbanisation and sustainable development challenges of 14 cities in Asia and Africa. Bangladesh (Khulna University) is the partner of this consortium and researching in Dhaka and Khulna.
In this exhibition, eminent and young artists bring more than 19 outstanding paintings, sculptures, and installations to light. At the same time, 30 artworks from school children from deprived areas of Dhaka city are jewels of this event. Dr Kazi Ghiyasuddin, Sahid Kabir, Dhali Al Mamoon, Tayeba Begum Lipi and Mhabubur Rahman are the participating eminent artists. The exhibition also includes five young artists: Sunanda Rani Borman, Mahamudul Hasan, Md. Mojahidur Rahman Sarker, KuntalBarai and S.M. Shaha Anisuzzaman Faroque. Architect Salauddin Ahmed curates the show. The works from artists capture interesting and critical urban problems such as rough sleepers, shelter and health vulnerability of the poor, lost neighbourhood life, (in) security, the life of non-human agents in cities, urban tranquillity, thrown togetherness, and hopes of urbanites.
While introducing the exhibition, the event concept designer Prof Tanjil says,"We designed the exhibition following a storyline that starts from individual issues and ends by questioning philosophical standpoints. The interesting space design will surprise the audience as it will make people feel the problems of Dhaka. You will surely see a different Alliance Française". Dr Shilpi Roy (associate professor at Khulna University), the event organiser, is optimistic that the event will provoke new thinking regarding the rhizomatic nature of problems in Dhaka. She adds, "we aim to reach out to the policymakers, citizens and scholars through this event so that they start thinking and talking about the complex issues around sustainable urbanisation."
The exhibition will be open to all till June 7, 2022.
Hours: Monday to Saturday from 3 to 9 pm. - Press release