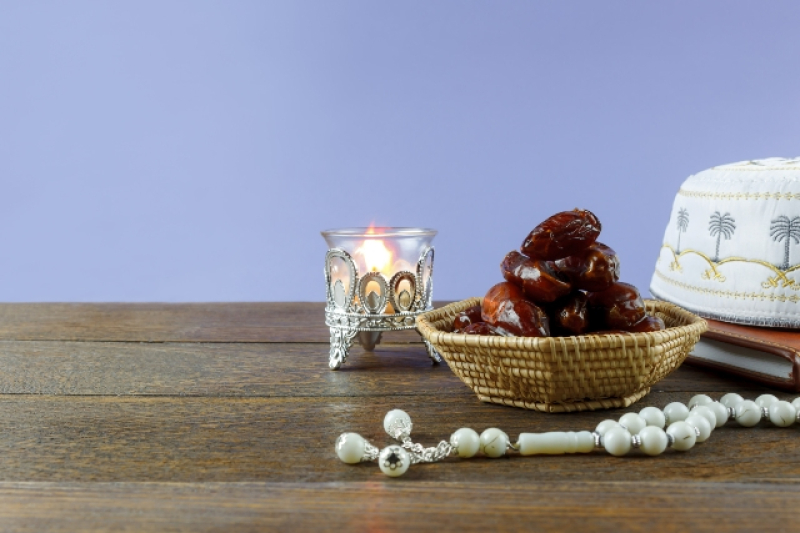 Ramadan articles. Representational image. Freepick

Dhaka, Mar 21 -- The sale of religious books, halal fragrance ator, prayer rugs, and other items associated with Islam has increased exponentially ahead of Ramadan, on the premises of National Mosque Baitul Mukarram and other mosques in the capital.

Prayer rugs, tasbihs and surma from Turkey, India, Pakistan and Iran are selling at different rates. A Turkish prayer rug is selling for upto Tk 5000, while Indian, Irani and Pakistani products price are similar.
People can buy a jainamaz (prayer rug) at Tk100 to 1000 of domestic and Chinese quality, Tasbih at Tk 50 to Tk500, Ator Tk100 to 8000 based on quality.
However, prices of all the products are higher compared to the previous years. The traders are concerned over price hikes of other goods, which may impact people's purchase of religious products.
Raju Mia, a street vendor of Baitul Mukarram South gate told UNB that the business situation is not good this year so far. On average their sale is around Tk3000 which rose to Tk5000 to 8000 on Friday. His 6-member family depends on this small business, Raju said.
Every Ramadan, Raju makes a handsome profit by selling these products, which helps him to maintain his family smoothly.
The street vendors told this correspondent that usually wholesalers supplied these items as per orders.
The Mitford area of old Dhaka is the wholesale market of Ator while Baitul Mukarram is another hub of Jainamaz, Surma and Tasbih supply, Muntasir said.
Youth Masud Miaji, who arrived at the south gate of Baitul Mukarram told UNB, "I use Ator regularly, not just because the fasting month is coming. There is a thing about fragrance. Actually I don't use the other perfumes available in the market. They contain alcohol. As I always pray, I put on Ator."
Showing a bottle he just purchased, he said, "I always use this one flavor and brand of Ator. I used to buy it for Tk100. Then it was Tk130 and but now I bought it for Tk170."
"In fact, the price of everything is increasing. What else would the shopkeepers do?" Masud said, justifying the price hike.
Tupi (skull caps) seller Nazer Uddin said that he has been in this business for 20 years. His shop is at the south gate of Baitul Mukarram Mosque.
Styles ranging from Jali (netted) to Omani  and Pakistani brands are available, ranging in price from Tk50 to Tk500 per piece.
Though the traders could not provide a clear or reliable estimate of the business volume of these products in terms of value, most of them think it is annually not less than Tk100 crore.
As Bangladesh is a Muslim majority country, half the annual sales occur during the month of Ramadan, they said. - UNB