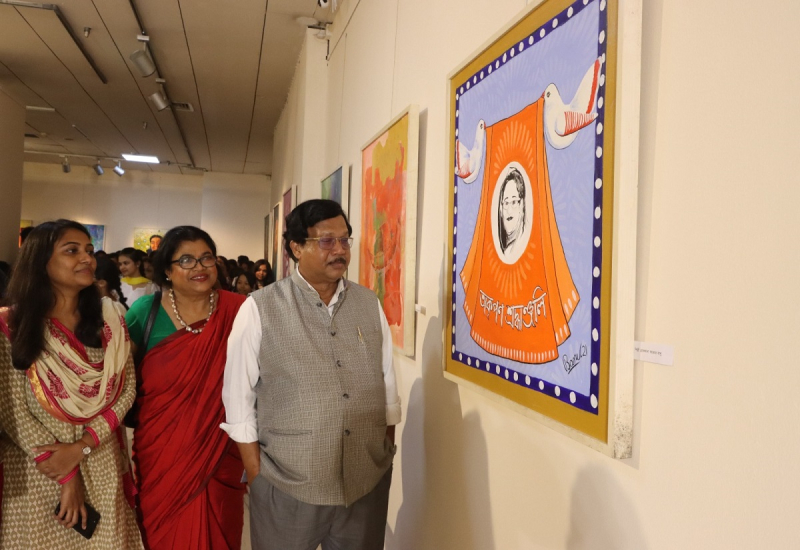 Bangladesh Shilpakala Academy is organising a three-day exhibition from September 27 to 29 to mark Prime Minister Sheikh Hasina's 77th birthday.  

The Academy on Wednesday unveiled an exclusive exhibition of paintings depicting the prime minister at the National Art Gallery Plaza's 2nd and 4th galleries as part of the event.

The painting exhibition was opened by the Academy's director general, Liaquat Ali Lucky, together with 50 children and adolescent artists. Syeda Mahbuba Karim, director of the Academy's fine arts department, was also present at the inauguration.

The exhibition showcases a total of 210 paintings, shedding the spotlight on the prime minister's eventful life and works. This will remain up until September 30 and will be open to the public from 11 am to 8 pm.

On Thursday, on the day of the prime minister's birthday, an exclusive art camp titled "Unnoyoner Charushilpa" will begin at 10:30 pm on the open grounds of the Academy premises, with the participation of prominent artists of the country. Cultural Affairs secretary Khalil Ahmed will inaugurate the art camp.

In addition to the camp, the largest portrait of Prime Minister Sheikh Hasina will be on display at the Academy premises. The portrait is 53 feet long and 38 feet broad, which will be on display until September 30.

The Academy will also commemorate the prime minister's life and work through different programmes on September 29. The BSA also chalked out a nationwide drawing competition for children-teenage-youth artists and an essay competition at the national level, as part of the celebrations, reports UNB.