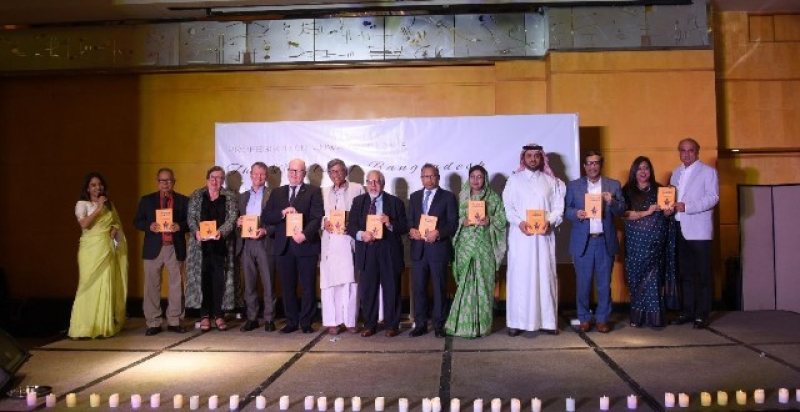 Book on Bauls by Dr Anwarul Karim unveiled at a hotel in the capital on Sunday.

Dhaka, Mar 21 – The publication ceremony of a book on the country's Bauls was held at a city hotel on Sunday.

The book, "The Bauls of Bangladesh and the Untold Stories" was based on a research work by Professor Dr Anwarul Karim, an author, and researcher.
The Minister, LGRD&C Tajul Islam, MP was present at the ceremony as Chief Guest.
Minister Tajul Islam paid glowing tributes to Professor Dr Anwarul Karim for his massive contribution to the Bangladesh culture by producing around 40 books both in English and Bengali.
The Book, the Bauls of Bangladesh and the untold stories, had in it the songs of Lalon and the other Bauls.
The minister said: "Lalon is now a world poet as his songs together with the other Bauls had left their mark on Tagore and our national poet Nazrul. Tagore's Gitanjali which earned Nobel Prize has enough of Lalon and Baul influence in it. Lalon equals Socrates in his search for the 'self' through his songs. He also supersedes Homer as a folk poet regarding the theme and message as delineated in his songs."
Meher Afroz Chumki, the former Minister of Women and children affairs and President of Awami Mahila League in her speech also thanked Professor Karim for his contribution to the culture of Bangladesh through his research on the Bauls.
She added that the government had also contributed to the development of Lalon academy which dr. Karim was founded in 1963 with the help of the local people.
Fariza Amena Karim, the young granddaughter of Professor Karim in her maiden speech praised her grandfather for his research on the Bauls.
Presided over by Sultana Afroz the former Secretary and the Vice Chair of Bangladesh Institute of Folklore and Community Development the program was attended among others by the former Women and Child Affairs State Minister, Meher Afroz Chumki as the Special Guest, Professor Dr Tone Bleie of Norway, Director General (RO) Foreign Ministry, the Ambassadors of KSA and Norway and the High Commissioners of Australia, Members of the Diplomatic Corps.
Professor Abdullah Abu Sayeed of Bishwo Shahitto Kendro and Professor Dr Abu Yousuf Md. Abdulla of Northern University Bangladesh was also present at the unveiling ceremony. - UNB