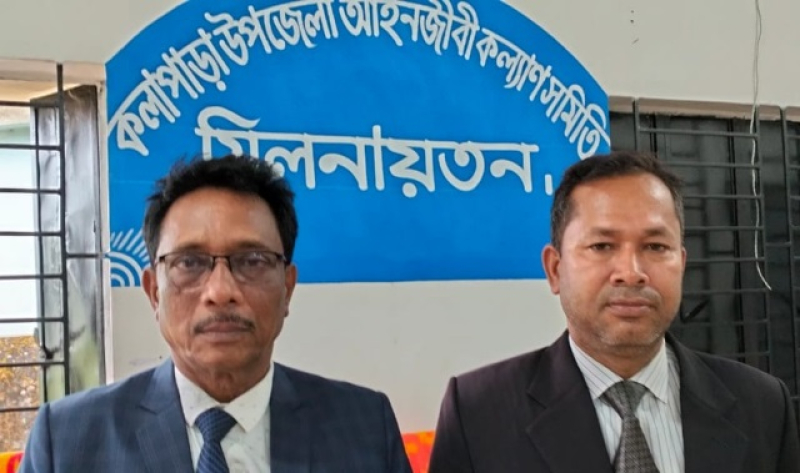 Nathuram elected president, Anwar secretary, Kalapara Lawyers Association.

Patuakhali: Advocate Mr. Nathuram Bhowmik has been elected as President and Advocate Md. Anwar Hossain as Secretary of Kalapara Upazila Lawyers Welfare Association of Patuakhali. Chief Election Commissioner Advocate Gyanendra Chandra Mondal announced them as the winners at Chowki Adalat Barbhaban on Monday afternoon. Senior lawyers including Assistant Election Commissioner Advocate Md. Hafizur Rahman Chunnu and Advocate Nasir Uddin Mahmud were present.

According to sources, advocate Md. Anwar Hossain got 20 votes for the post of secretary in the secret ballot of lawyers in the election held at Kalapara Chowki Court Lawyers Bar Bhavan. His nearest rival BNP supported candidate Advocate Md Shahjahan Parvez got 19 votes.
Besides, the source confirmed that Advocate Nathuram Bhowmik as President, Advocate Md. Rakibul Ahsan Mamun as Vice President and Advocate Md. Kamruzzaman Sohel as Joint Secretary were elected unopposed.
Earlier, the annual general meeting was held at the Upazila Lawyers Welfare Association building at 10 am. Advocate Md. Mojibur Rahman Chunnu, Advocate Tapan Kumar Bhowmik, Advocate A. Sattar, Advocate Md Saidur Rahman, Advocate Md Gofran Biswas Palash, Advocate Md Shahabuddin Khandkar, Advocate Md Abul Hossain, Advocate ZM Kawsar, Advocate Md Suman were also spoke in the meeting, chaired by outgoing president Advocate Khandoker Nasir Uddin. During this, the outgoing leaders presented the written account of the annual income and expenditure of the association.
Meanwhile, Md. Mohibbur Rahman, member of the Parliamentary Standing Committee on Defense Ministry of the Jatiya Sangsad and Member of Parliament for Patuakhali-4 Constituency, Abdul Motaleb Talukdar, Secretary General of upazila Awamileague, congratulated the Awami League-supported Nathuram-Anwar panel for winning the Kalapara Chowki Court Lawyers Welfare Association election. - Gofran Biswas Palash